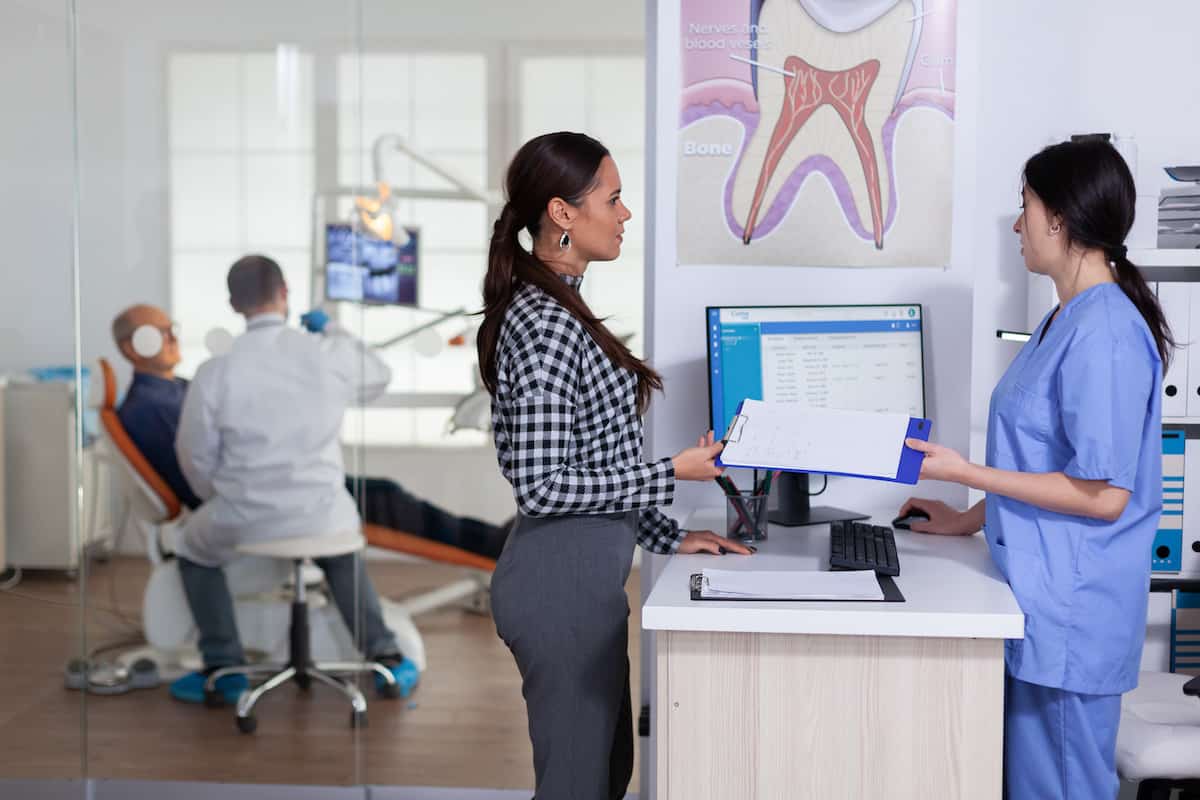 29 Dec

How To Choose A Dentist | A Complete Guide
How To Choose A Dentist
Finding the perfect dentist for you and your family is a challenging and important task. In this article, we'll talk about what makes a great dentist and give you some pointers on how to find the ideal dentist provider for your needs. There are a lot of reasons why finding the right dentist is so important. For one, your dental health is very important to your overall health. Having a good dentist can help you maintain healthy teeth and gums, which can in turn help you avoid problems like tooth decay and gum disease.
Another reason why it's important to find a good dentist is that your smile is one of the first things people notice about you. Having a great smile can make a big difference in how people perceive you, and it can also help you feel more confident in yourself.
Finally, having a good relationship with your dentist can make it easier to get the dental care you need when you need it. When you have a good rapport with your dentist, you'll be more likely to feel comfortable asking questions and discussing your dental health concerns. This can help you get the treatment you need in a timely manner, and it can also help you avoid any unnecessary stress or anxiety. 
Signs of a Quality Dentist
A good dentist is someone who is passionate about their work, has a strong commitment to providing quality care, and possesses the necessary skills and knowledge to provide excellent dental care. In addition, a good dentist should be someone who is friendly and personable, as this can go a long way in making patients feel comfortable during their visits. Finally, a good dentist should be someone who is willing to take the time to listen to their patients and understand their needs. By meeting all of these criteria, dentists can ensure that they are providing the best possible care for their patients.
​​A good pediatric dentist will have a warm and friendly demeanor, and be able to put children at ease. They will be gentle and patient, yet firm when necessary. A good pediatric dentist will have a thorough knowledge of child development, so they can provide the best possible care for your child. They should also be up-to-date on the latest advances in dentistry, so they can offer the most current treatments available. Finally, a good pediatric dentist will be someone you feel comfortable entrusting your child's dental care to.
The main difference between a dentist and an orthodontist is that a dentist focuses on general dental care while an orthodontist specializes in straightening teeth. A dentist may be able to provide some basic orthodontic treatments, but for more complex cases, you will need to see an orthodontist. Orthodontists have completed additional training beyond dental school and are experts in the field of dental alignment. If you are considering braces or other corrective treatments, you should consult with an orthodontist to get the best possible care.
There are Many Factors to Consider When Choosing a Dentist.
 Here are a few things to keep in mind:
Location – Ideally, you should choose a dentist who is close to your home or work. This will make it easier to get to your appointments and reduce travel time. Location is very important when determining which dentist is right for you. 
Experience – It's important to choose a dentist with experience in the procedures you need. Experience is so critical for a dentist because it allows them to perfect their craft. They learn how to deal with different types of teeth, how to handle different patients, and they also learn what type of treatments work best for certain dental problems. The more experience a dentist has, the better they will be able to serve their patients. Ask friends or family for recommendations, or look for online reviews. 
Services – Make sure the dentist offers the services you need, such as teeth cleanings, X-rays, and fillings. A dentist should offer a wide range of services to their patients in order to ensure that their oral health is taken care of. These services should include, but are not limited to, teeth cleanings, examinations, fillings, and extractions. Additionally, a dentist should be able to provide their patients with information on how to take care of their teeth at home and make sure that they are brushing and flossing properly. By offering these services, a dentist can help their patients maintain good oral health and avoid any serious dental problems down the road.
Cost – Consider your budget when choosing a dentist. Many dental insurance plans have networks of providers, so be sure to check if your dentist is in-network.
Schedule – Consider your schedule when choosing a dentist. Many dentists offer evening and weekend appointments to accommodate busy schedules. 
Choosing the right dentist is an important decision. Be sure to consider all of the factors before making your choice.
Prepare Yourself For A Dentist Visit
You may be wondering how to prepare for your visit to the dentist. Here are a few things you can do to make sure everything goes smoothly:
-Schedule an appointment: You will need to schedule an appointment with your dentist in advance. This will ensure that you have time to get everything done that you need to.
-Create a list of questions: Before your visit, it can be helpful to create a list of questions that you want to ask your dentist. This way, you won't forget anything and you'll be able to get all the information you need.
-Gather your paperwork: Make sure you have all of the necessary paperwork with you when you go to your appointment. This includes your dental insurance information and any other forms that may be required.
-Be prepared to discuss your dental history: Your dentist will need to know about your past dental experiences, so be prepared to share this information.
-Know what to expect: Before your visit, it can be helpful to research what you can expect during a typical dental appointment. This way, you'll know what to expect and you'll be less likely to be surprised by anything.
Following these tips can help you have a successful visit to the dentist. Just remember to relax and take your time so that you can get the most out of your appointment.
How To Help Your Child
It's important to start teaching your child about dental hygiene early on. You can help them develop healthy habits by teaching them how to brush and floss their teeth properly. It's also a good idea to take them for regular checkups with the dentist so that any problems can be caught early. Here are some tips on how to prepare your child for a visit to the dentist:
– Help them understand why it's important to go to the dentist. Explain that the dentist can help keep their teeth healthy and strong. It's critical to teach your child the importance of dental hygiene from an early age. Here are some tips on how to do so: Lead by example – make sure you brush and floss your own teeth regularly, and let your child see you doing it. Secondly, make it fun – turn tooth-brushing into a game, or let your child pick out their own toothbrush and toothpaste. Next, be consistent – set a regular time for brushing teeth, and stick to it! Be sure to reward good behavior – praise your child when they do a good job brushing their teeth, or give them a small reward. Finally, visit the dentist regularly – take your child to  the dentist for check-ups and cleanings, and let them see that it's nothing to be afraid of.
– Make sure they know what to expect during the appointment. Show them pictures of the dentist office and explain what will happen during the exam.
– Let them know that it's okay to be a little bit nervous. Reassure them that the dentist is there to help and not to hurt.
– Practice at home! Use a toothbrush to show them how to brush their teeth properly. You can even let them practice on a stuffed animal or doll.
– Make sure to schedule an appointment with a pediatric dentist. These dentists are specifically trained to work with children and make them feel comfortable during their appointment.