Lenexa Kansas Cosmetic Dentistry
From the moment you step into our Lenexa office, we want you to feel relaxed and comfortable during your visit. Our team's expertise is in beautifying smiles, maintaining your dental health, and helping you have a comfortable dentist appointment. At Olathe Family Dental all patients are family and the team at Olathe Family Dental is here for all your Lenexa  Kansas Cosmetic dentistry needs.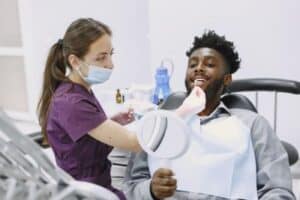 Here is a list of the services available at Lenexa Family Dental:
Family Dentistry, Lenexa, Kansas
Same-Day Emergency Dentistry, Lenexa, Kansas
Metal-Free Dentistry, Lenexa, Kansas
Root Canals, Lenexa, Kansas
Full or Partial Dentures, Lenexa, Kansas
Porcelain Bridges, Lenexa, Kansas
If you're in need of an Lenexa, Kansas Cosmetic Dentist, contact Olathe Family Dental today.
Phone Number
(913) 780 – 0123
Address
11132 S Lone Elm Rd.
Olathe, Kansas 66061
Servicing
Directions
Click Here for Driving Directions
Hours
Monday: 9AM – 2PM
Tuesday: 8AM – 2PM
Wednesday: 8AM – 2PM
Thursday: 11AM – 5PM
Friday: Closed
Saturday: Closed
Sunday: Closed
Lenexa Kansas Cosmetic Dentistry in Lenexa, Kansas – Proudly Serving
Olathe, Overland Park, Shawnee, Gardner, Lenexa, and Merriam